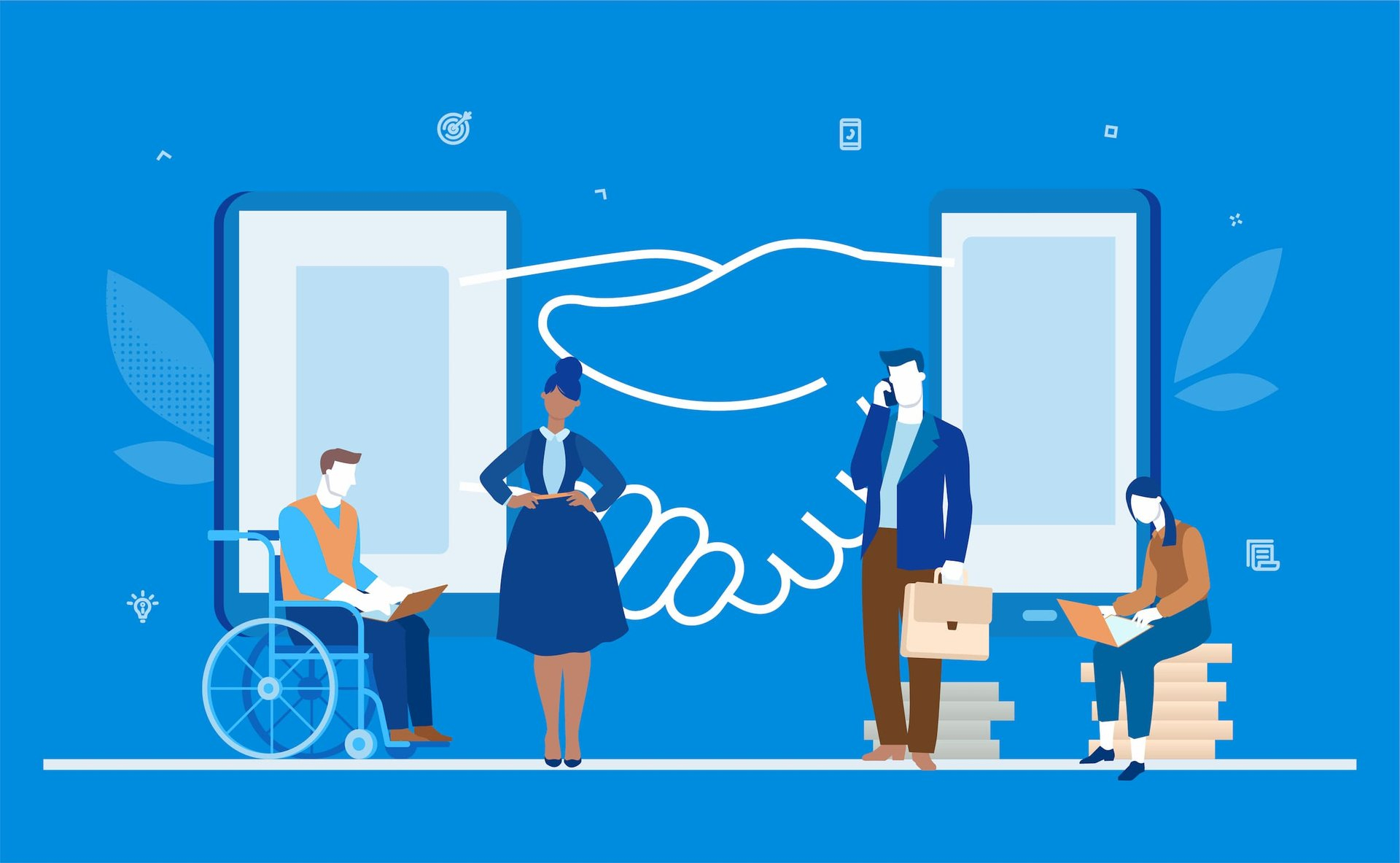 Accessibility has become an important struggle of rights, including web accessibility and digital accessibility. This argument, which holds a history of several decades, is very new in Turkey and there are few studies in this field.  We as Binbiriz wish to advance our technical studies on digital accessibility/web accessibility and make this issue more visible producing content. This is the first part of a blog series about this subject. Enjoy your read:
It was common in the first age to kill handicapped babies in the cult called "Beautiful Body".
In Rome, disabled children were drowned in Tiber and people accepted "mentally challenged" were banished from marriage.
In Plato's state, the concept of eugenia (eliminating unhealthy fetuses and raising healthy ones) was discussed. Aristo defined born-mute people as mindless.
The Old Testament associated several disabilities with sin.
In the 1300s, British monarchy passed a law to confiscate the properties of people with mental disorders or disabilities.

In the "modern age" Hitler applied the Aktion T4 program to sick and disabled people. Program dictated to eliminate the "life not suitable for life" and this was called euthanasia (mercy killing). With Aktion T4 program, an estimate of 275.000 people were killed between 1939-1945. (A Disability History Timeline)
Since the oldest era of the history, the disabled were amongst the people who were the most cast off, insulted and slaughtered. Despite all this, the struggle for the handicapped in the last century enabled the rights of the handicapped to reach legal ground. Some of the main turning points of this struggle are as follows::
These legal regulations, of which only a few are mentioned here, have been issued in order to define the rights of disabled people, who have been marginalized for centuries, and to participate in social life like all individuals. The participation of people with disabilities in social life has recently been mostly limited to spatial accessibility; It is aimed to create conditions for disabled people to benefit equally from buildings, roads and sidewalks and public services. The rapid development of technology has brought digitalization to almost every aspect of our daily lives, but it has also revealed that not all segments of society have access to this digitization equally. 
When the concept of accessibility, which means having access to state of ability in its simplest definition and when used in a broader sense; expresses the right of a very important part of the society, such as the poor, women, homosexuals, people with different languages, religions, races, cultures and beliefs, the elderly and of course people with disabilities, to access the basic needs like food, education, health, internet, social rights, equality, freedom, justice and many more. In this article, we will only discuss the digital / web accessibility of people with disabilities by submitting the need to conduct detailed discussions about the possibilities of different segments of the society in question to access these fundamental rights or the obstacles to these opportunities and to ensure that every person has access to their fundamental rights in the broadest sense.
Disabilities in Numbers
According to the World Health Survey made by the World Health Organization (WHO), 15.6 per cent (785 million) of the population of 15 years and older, 19.4 per cent according to Global Burden of Disease estimations are disabled. In the U.S., where In the USA, where research is more comprehensive and the human life is relatively long, while adults with disabilities are 25.7 per cent of the population (1), 26 per cent (2) across Europe. Turkey Disability Survey is based on a ratio of 12.29 per cent of the disabled population, this ratio is around 15 per cent in adults. (3) Research shows that disability is a significant correlation with age. Disability increases logarithmically with increasing age. (4) Approximately 35 per cent of the population over age 65 in the US, while 40 per cent of people in Turkey are with disabilities.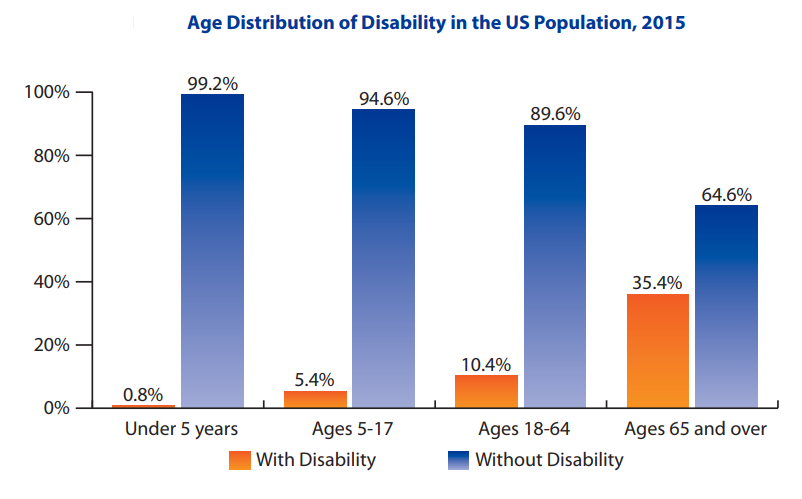 Despite the name given to the research and naming towards the disabled being troublesome, in "Research of Problems and Expectations of the Disabled", the bitter truth about the disabled individuals, who are registered in the National Database of the Disabled, which was first created in 2010 in Turkey and holds great importance in terms of the data it holds, was revealed. According to this database, of the disabled people in Turkey
85,7 per cent demand an increase in social aids and support,
77 per cent demand that health services be improved and generalized,
40,4 per cent demand that caring services be improved and generalized,
28,7 per cent demand an increase in the possibility of finding a job,
25,6 per cent demand that education possibility increased. Only 17.7 per cent demand regulations about the physical environment and the possibility of transportation, hence location-based accessibility.
Web Accessibility / Digital Accessibility
Computers emerging could be considered the beginning of digital accessibility issue and, while the first web site being published in Cern in 1991 could be considered as the beginning of web accessibility issues.  The widespread use of personal computers and the internet, and the digitalization of society from production to consumption in almost every area, have made the web accessibility problem of disabled people burning. Finally, the Web Accessibility Initiative Web Content Accessibility Guide 1.0 (WCAG 1.0) under the umbrella of the W3C (World Wide Web Consortium) was published in 1999.

Today, 56.8 per cent of the world population, which is 4.3 billion people, use the internet (5). In these conditions, where the internet is increasingly a part of our lives, it is aimed that there is no obstacle to the access of disabled people to websites, and that any product, service or technology can be used by everyone. In line with this goal, the web's accessibility standard was published in 2008, WGAC 2.0 and WGAC 2.1 in 2018. Due to the rapid advances in technology, the change in digital assets, the awareness of disabled people and the increase of their demands in parallel with this make web accessibility standards more comprehensive. Accessibility is divided into 3 levels as A / AA / AAA in these standards. Each level has its own requirements and recommendations, but each of these levels has the same essence and principles.

WCAG aims to make web content more accessible for people with disabilities with a wide range of disabilities, including visual, auditory, physical, speech, cognitive, language, learning and neurological injuries. In WCAG 2.1, there are 4 web accessibility principles that emphasize that disabled people cannot use the web under conditions where no one is provided:
Detectable: Information and user interface components should be presented to users in ways they can perceive.
Actionable: The user interface components and navigation should be actionable.
Understandable: Both information and user interface operations should be understandable.
Robust: The content must be robust enough to be reliably interpreted by a wide range of user tools, including assistive technologies.
Under each of the principles are guides and criteria for success that help address these principles for people with disabilities. There are many general usability rules that make the content more useful to all people, including people with disabilities, but WCAG 2.1 includes guidelines that address only disability-specific issues. While web accessibility defines several rules around the above principles, there is also a serious legal legislation regarding accessibility and web accessibility.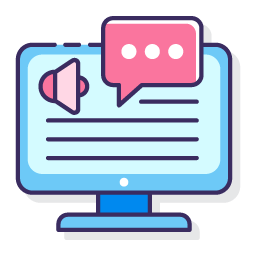 Web Accessibility / Digital Accessibility in the World
The concept of accessibility has expanded in the last 30 years, in which digitalization has been intense, to include information and communication tools that cover almost every area of ​​life and has started to take place in the law. In fact, the concept of accessibility has become almost equivalent to the concept of "Web accessibility / digital accessibility" since the studies on "making equal use of public spaces, roads and sidewalks and public services" were carried out in the US and EU urbanization practice decades ago.

The first law on digital accessibility was the Communication Law (Section 255), which was signed in the USA in 1996. The communication device and service provider service produced in this law, which connects the private and public sectors, was required to be accessible for the disabled. The last law in this area was passed by the European Union in 2016. With the Web and Mobile Accessibility Directive, it was made compulsory for member states to make public sector websites and mobile applications accessible in line with WCAG 2.0. Countries and associations that have legal legislation on direct accessibility are: China, Europe, the Union, Finland, France, Germany, Ireland, Italy, Japan and the USA.
Web Accessibility / Digital Accessibility in Turkey
The concept of web accessibility is a very new concept for Turkey. In Turkey, there are no direct laws in this area. However, there are a few articles that came into force in the Convention on the Rights of Persons with Disabilities, which it signed in 2009, and the Law on Disabled Persons, which revised in 2014:

"States Parties ensure that people with disabilities can live independently and actively participate in all areas of life and provide opportunities for people with disabilities to the physical environment, transport, information and communication facilities, including information and communication technologies and systems, and other facilities and services open to the public in both rural and urban areas. they will take appropriate measures to ensure their access. "(Convention on the Rights of Persons with Disabilities - Article 9)
Information services and information technology are provided to be accessible to the disabled. (Law on Disabled People - Article 7)
There are serious problems with the fundamental rights of the disabled people in Turkey. The demand for "digital accessibility, web accessibility" in researches that try to identify the needs of disabled people is absent or near. In our country, where even public spaces, roads and sidewalks are not arranged according to the disabled, "Accessibility is one of our main goals. We will do serious studies on this issue in 2019. The statement of Orhan Koç, the General Manager of Disabled and Elderly Services, reveals that the state does not have a goal/priority in digital accessibility. According to Koç, accessibility is equal to spatial accessibility, and digital accessibility is not even conceptually.
Web / Digital Accessibility is a Fundamental Right
People with disabilities may not have certain abilities like those who are not "disabled", but what actually makes them disabled is the majorityist form of society. The disability situation stems from the "attitudes and the interaction of environmental conditions that prevent the full and effective participation of people with disabilities in equal conditions together with other individuals" (6).

Unfortunately, the internet and many technologies that make our lives easier in the information and communication age are not suitable for the use of disabled people. The accessibility of the web and other digital technologies to everyone is the duty of the scientists and engineers, designers, software developers who have developed the technology, as well as the disabled and all of us. Let's conclude our article by listing some of these requests:
 Screen readers, hearing aids and all technological devices that will enable disabled people to access digital channels should be distributed free of charge by the state.
All communication devices and internet service providers should be accessible.
The entire web infrastructure, especially the sites of the public, education and health institutions, banks, and shopping companies should be made accessible on the basis of WGAC.
Legal regulations regarding web accessibility / digital accessibility should be made urgently.
Accessibility is a prerequisite and a tool to ensure de facto equality for all persons with disabilities (Convention on the rights of persons with disabilities - BM). Providing this condition does not ensure that disabled people are equal individuals in society, but it causes a significant distance to be covered in this way. People with disabilities can socialize, order food, read articles, complete their education, and shop on the web like everyone else.
Failure to meet this condition is ultimately a discrimination crime. As a matter of fact, it is reflected in the news that thousands of lawsuits have been filed regarding web accessibility in the USA and most of them have been concluded in favor of the disabled. It is necessary to see whether the issue of web / digital accessibility is a basic human right outside the crime / criminal dilemma, to make necessary arrangements accordingly and to make all digital infrastructure accessible, especially the web infrastructure.
Prevalence of Disabilities and Health Care Access by Disability Status and Type Among Adults — United States, 2016
Türkiye'de veri toplama ve açık veri konusundaki kronik yetersizlikle birlikte düşünüldüğünde bu konudaki en sağlıklı veriyi 2002 yılındaki Türkiye Özürlüler Araştırması'ndan elde edebiliyoruz. (2011 yılı TÜİK verilerine göre Türkiye'de yaklaşık 5 milyon engelli var. Yani Türkiye nüfusunun % 6,6'sını engelliler oluşturuyor. Ancak bu sayılar dünya ortalamalarının çok altında ve gerçekçi değil.)
Engellilerin Haklarına Dair Sözleşme