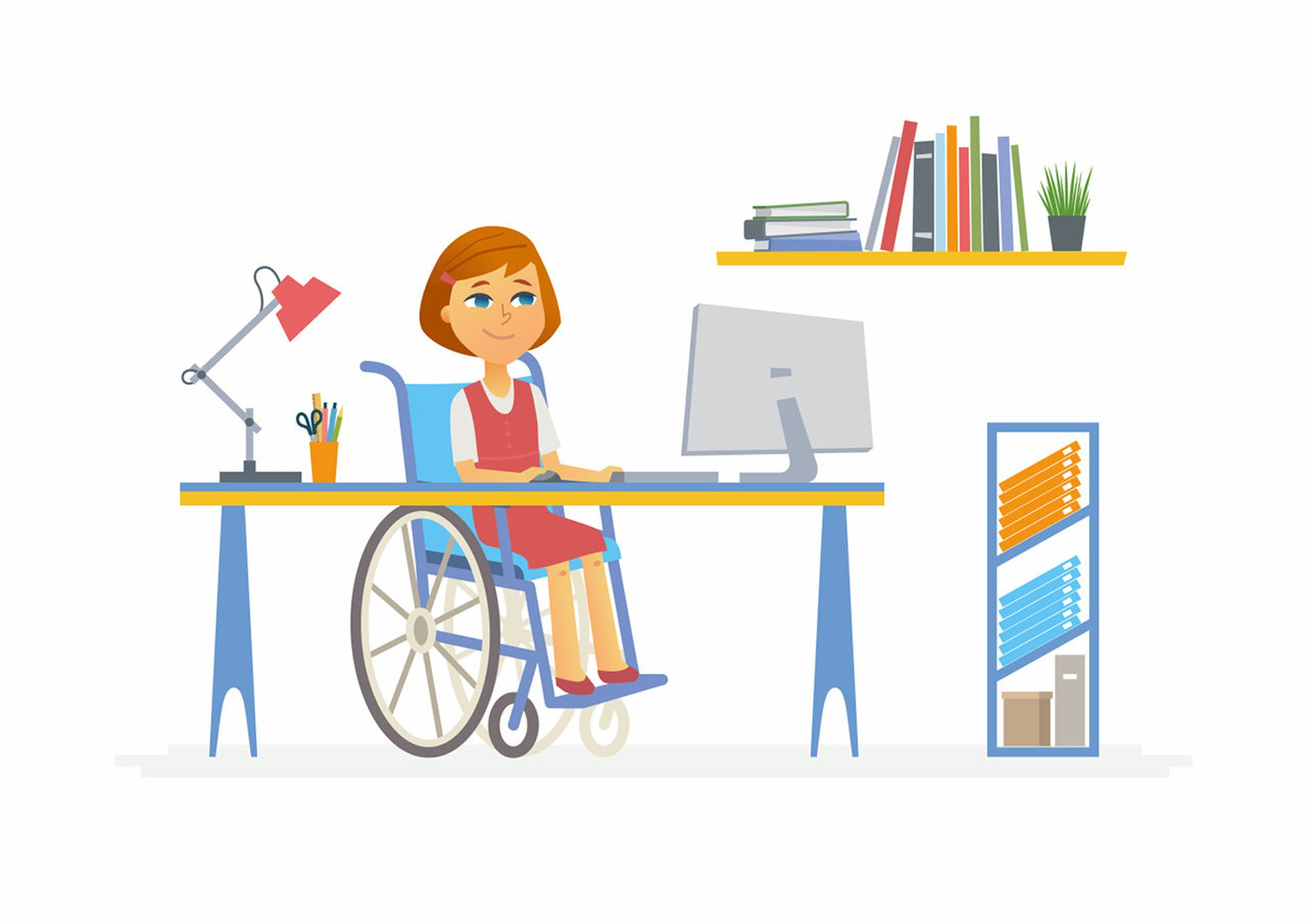 The intense interest in our blog post titled Digital Accessibility / Web Accessibility for Everyone showed that this subject needs to be studied more. Especially our friends who struggled about the rights of disabled people and NGOs for the disabled people, who were concerned about the issue, both contributed to the content of our article and tried to make it more widespread. On this occasion, we would like to thank everyone who contributed; and we invite everyone interested in the issue to make digital accessibility more visible, to establish standards and enforce them, which means the accessibility of digital and technological tools to everyone but especially the disabled and the elderly. With this second article in our series of articles, we wanted to elaborate on web accessibility, which is a subtitle of digital accessibility. Good reading...
Why is Web Accessibility Important?
Today, internet is the main path to information, How black holes form, the meaning of plummy, the Spanish equivalent of the English word procrastination, Ken Loach's latest film; are all one "click" away.
Our social life is now built on "fav", "like", share on Instagram, Facebook, Twitter, instead of being together in public places. Cinema, series, video, music, food are always on the Internet.
Almost all of our business organization is moving on the internet. A business process with no email, common file-sharing tools like Drive / Yandex Disk, customer relationship management system (CRM) or enterprise resource planning (ERP) software used in the field of marketing and much more is almost gone or will not be in the near future. 
Online education tools, e-learning programs, videos, community sharing sites, language learning applications shape our education and training process. When any part of our body hurts, we are able to access the internet and diagnose diseases and learn about treatment methods.
However, all these are things that individuals with no disabilities can easily do. Unfortunately, applications that facilitate the daily life of many people or frequently used websites cannot be used by disabled people with the same ease and frequency. This can be easily understood by looking at the accessibility scores of the websites. Örneğin,
Yemek Sepeti's accessibility score is 37 out of 100,
Türkiye İş Bankası accessibility score of 58 out of 100,
İBB's accessibility score is 52 out of 100,
Facebook contact page accessibility score 52 out of 100.
The accessibility score of a contact page of the CRM (Hubspot) that we serve as Binbiriz is 45 out of 100. (1)

Examples can be multiplied, but it would not be wrong to say: Under the condition that web accessibility cannot be provided, individuals with disabilities cannot be included in daily life as non-disabled, cannot socialize, learn, work, order, or use public services. (2nd)
Web is not Accessible
With the advancement of technology, would many problems be solved automatically? Hunger, poverty, welfare, health and more ... For the vast majority of the people, these problems have not been solved yet and it does not seem to be solved.
The situation of the disabled in the community is similar. In the Disability Report published by the World Health Organization in 2011, technology was described as a tool to overcome obstacles in almost every field such as general health system, rehabilitation and support, environmentalization, education and working life. It has been 8 years since the report, but we did not see any significant progress towards the general.
With technological advancement, a new question came up in the field of "disability": Could technology, the tool for overcoming obstacles, be the obstacle itself?
The answer to this is, unfortunately, "yes." Indeed, technology has created its own problems, and one of the most important is digital accessibility and web accessibility. With the increasing development of new technologies, assistive technologies cannot be used quickly to access information and communication technologies. When almost every new technology is released, people with disabilities cannot take full advantage. This is also true for the internet.
In 2019, Web Aim made an accessibility analysis of the best 1 million websites on the Internet (2). The results were deplorable. According to this:
A total of 59,653,607 accessibility errors, which is, in other words, an average of 59,6 per site, were detected. On the homepage of each site, there were an average of 782 HTML elements, and these elements bore an average of 7,6 per cent accessibility errors. Furthermore, the number of accessibility errors on more popular sites were more than that of less popular sites.
According to the Web Content Accessibility Guidelines / WCAG 2.0 standards published by World Wide Web Consortion, which defines the rules of the internet, it was detected that 97,8 per cent of these sites' home pages are not compatible.
In contrast, images and alternative texts, form labels, links and headings, errors were detected in more than half of the sites.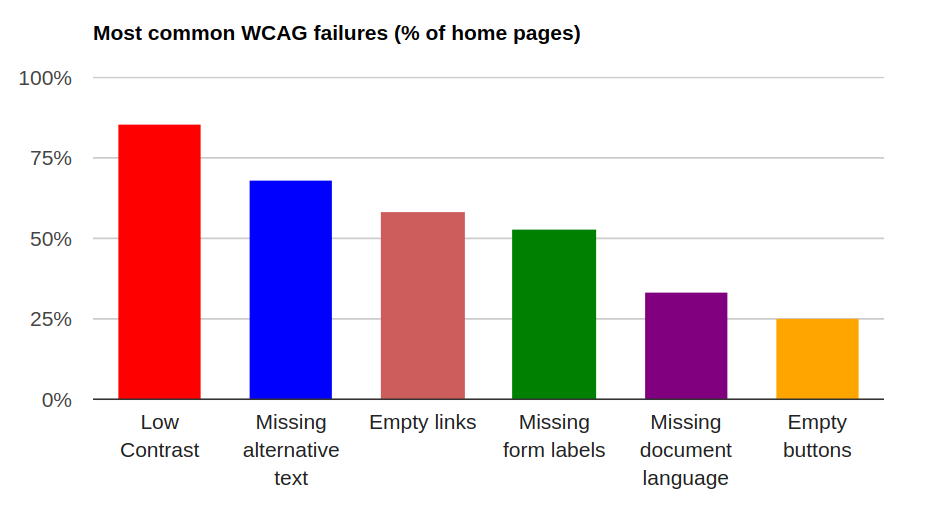 Web Accessibility Applications in the World are Insufficient
Although certain distances are covered in the legislation in the USA and the EU, accessibility practices are very poor. The DARE Index was created for the determination of the progress made by the States parties signing the Convention on the Rights of Persons with Disabilities in implementing the provisions on digital accessibility, accessibility of information and communication technologies (ICT). According to the 2017 - 2018 index, there is not even a policy to apply to the digital accessibility area in 60% of the countries. Percentage of full level implementation in all areas is only 0.5%. Another critical data in the same study is about the accessibility courses at universities: The rate of digital accessibility courses at the major universities in the countries is 37%. 
Given the pace of technology advancement, it seems to be a serious problem to bring legislation and technical adaptation to the accessibility criteria.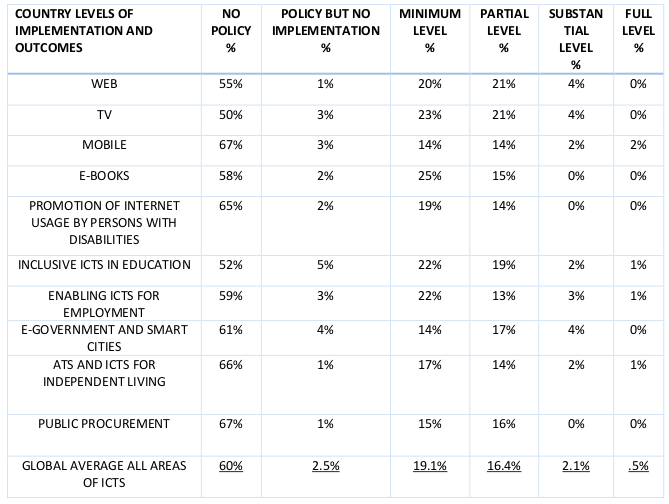 Web Accessibility in Turkey is Unknown, Not Considered Important!
Published on December 11, 2008, WCAG 2.0 has been translated into 18 languages, but there is no Turkish translation yet.
When you perform a simple search on Google with the keywords "web accessibility" and "web accessibility", you will see that the search for "web accessibility" yielded only 21.8 million results, while the search for "web accessibility" yielded only 16 thousand results. In other words, the search for "web accessibility" in Turkish is only 0.073 per cent of the search in English. (3)

Web Accessibility is Little Known to the Disabled
We mentioned in our previous article: There are no requests regarding web accessibility or digital accessibility in the Disabled People's Problem and Expectations Survey in 2010.
Web developers don't know web accessibility
According to Sherpa's research on 59 people between the ages of 23 and 45 for the graduates of the computer engineering department in 2016, "nearly half of the software developers (48 per cent) misidentified accessibility, 27 per cent failed to answer the question by stating that they did not have any knowledge about accessibility. In other words, very few software developers know the concept of web accessibility. The answer to the question of how many apply web accessibility criteria is unknown.
Universities do not care about web accessibility
As of 2018, there are 280 computer engineering departments in Turkey. In the majority of the curricula of the computer engineering departments of the universities, there are no accessibility courses, with the exception being Marmara University Computer Engineering Department - "Basic Principles of Accessibility in Informatics and Technology" - elective course.
Web Accessibility is Unknown to Software/Design Companies
We have not come across a company that serves in the field of web accessibility and makes it known enough. Our searches on Google also confirmed us. We couldn't find any results in our searches on "web accessibility improvement", "web accessibility improvement", "web accessibility consultancy" keywords.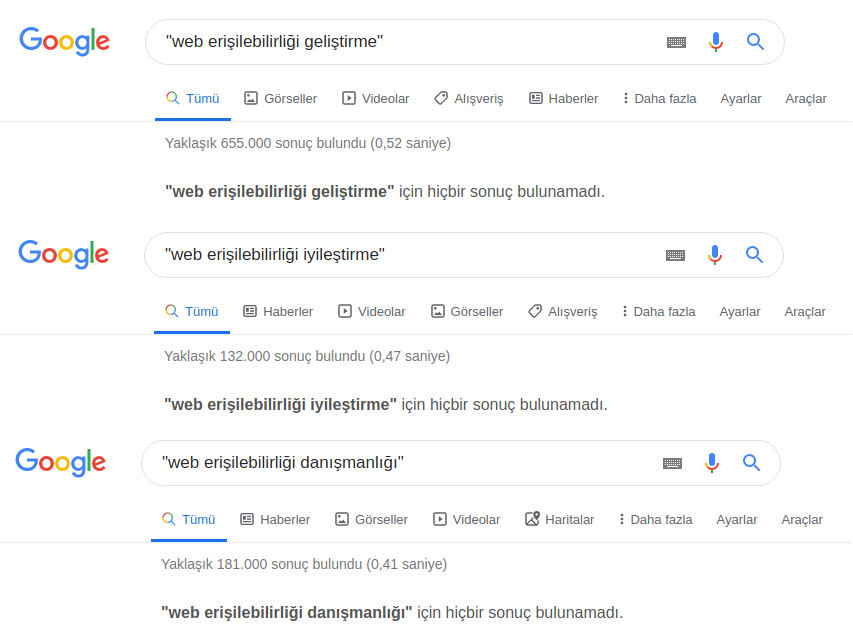 Let's Make the Internet Accessible!
Although all these data reveal a pessimistic picture, making the internet, which is an important part of our life accessible, is an absolute must. It is a necessity that
First of all, disabled and elderly individuals, then NGOs and sensitive people demand this,
Then, to ensure that these requests enter the legal regulations; public institutions and all private institutions to revise their infrastructures according to this legislation,
Universities to raise students who can immediately establish accessible infrastructures and for this reason to put all students in digital fields as a compulsory course,
Infrastructures should be checked regularly according to accessibility standards and penal sanctions should be applied to those who do not comply.
As BİNBİRİZ, we consider the issue of web accessibility among our priorities. Since we put accessibility into our agenda, we strive to provide accessibility information and awareness in all customer interviews we do. We state that we will provide at least "A level" accessibility in all of our offers. Again in this direction, we applied to the W3 Consortium with our sister company Diwowi for the translation of WCAG 2.1 (new global standards). We will do much more.
Accessibility test was performed in Google Chrome internet browser with 5.1 version of Lighthouse, Google's reference test tool.
Webaim (https://webaim.org/projects/million/)
Our country is a real data poor country. We cannot reach actual and actual data in almost any field. Unfortunately, one of these areas is the disability area. For this reason, we tried to confirm this argument only indirectly.